BRANDS THAT ARE SCORING
Equação Lógica recently launched a research project among the residents in Great Lisbon and in Great Porto with a sample of 303 interviews representative of both populations.
  Methodology: Quantitative and Qualitative
Quantitative with data collected on the 26th March 2020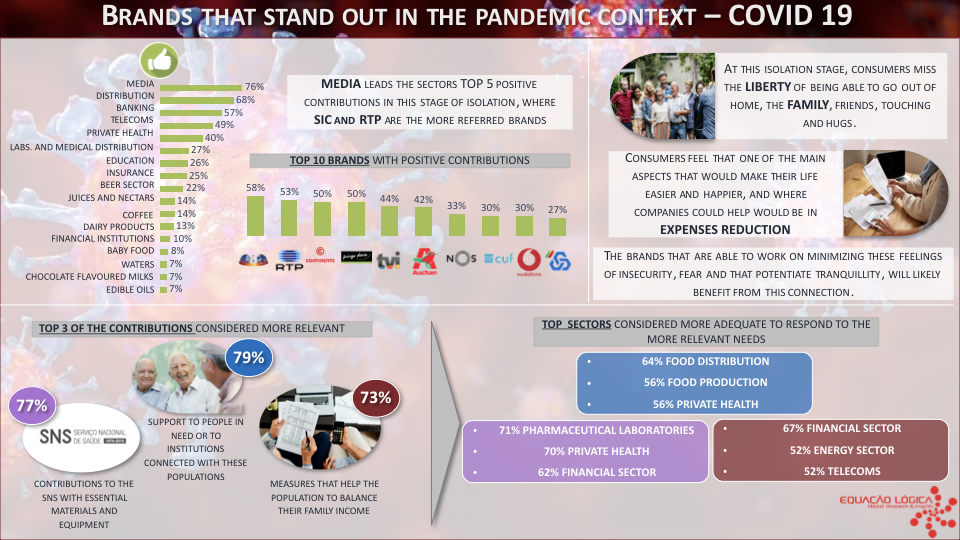 Objective: To understand the impact and recognition of the brands contribution to the community, during the current COVID-19 Pandemics.
Equação Lógica intends to go beyond this measurement and contribute with the ranking of measures that mostly touched consumers, identifying which measures can the brands and the different economic sectors develop to correspond to the consumer expectations.
In a time when many brands went off air and cancelled their communication campaigns, as a result of a lot of uncertainty or inadequacy of the messages of their campaigns, Equação Lógica that supports many of its clients in the development of efficient communication intends, once again, to be the chosen partner helping brands in reactivating their presence in a manner that is relevant and close to the consumers in such a demanding moments for all of us.
Our experience resulting from the monitoring of numerous brands and sectors in the developments of its communication strategy, makes us believe that companies that prioritize people's needs above brand needs, will have a very positive return in the mid-term.
Brand's that focus now on their brand purpose and in beneficial contributes for the community, will be potentiating a higher recognition and creating a more special connection to the consumer.
Brands can't be absent in these moments. Silence is not always a good strategy.
With an integrated research team, we in intend to give some answers and indicate some routes to our clients based on qualitative and quantitative data.
We start here, by communicating some quantitative results and very soon we will complement these with qualitative insights that will allow to better understand consumer's attitudes and expectations in a unique research that we will also share very soon.
We share some insights here, and we are willingly available to share more information about it.
95% of the contacts made with respondents declared to consider important for brands to have a relevant contribute in this context.
See below the Top 10 brands that had a positive impact and were recognized as such among consumers in the present context: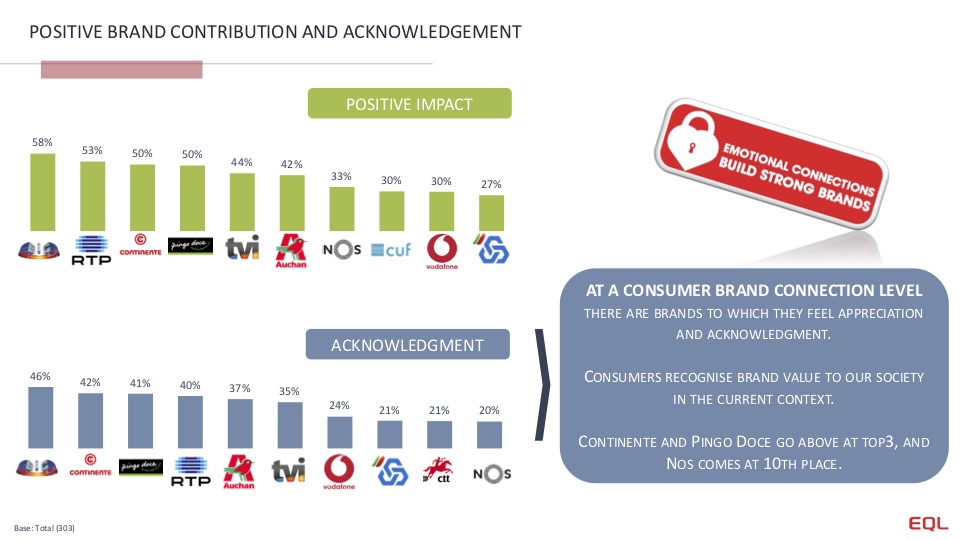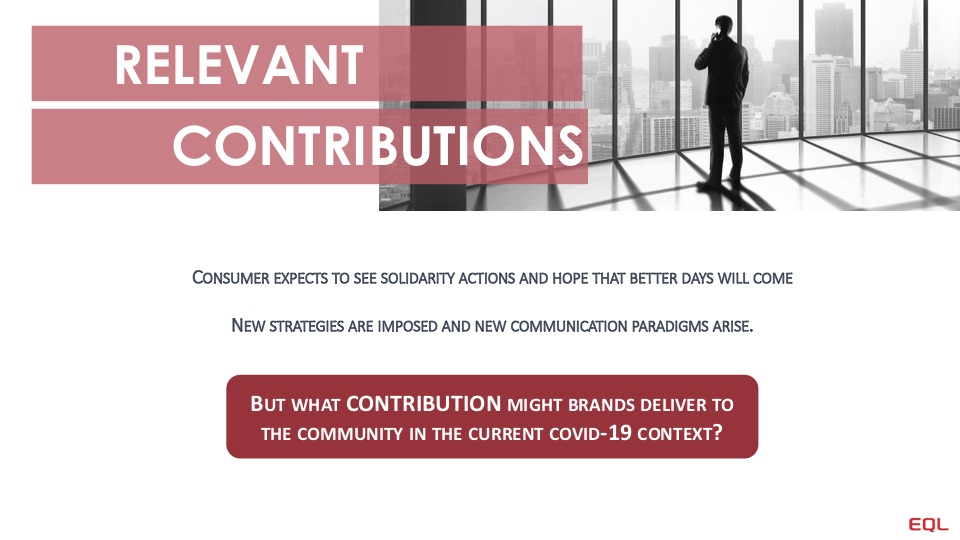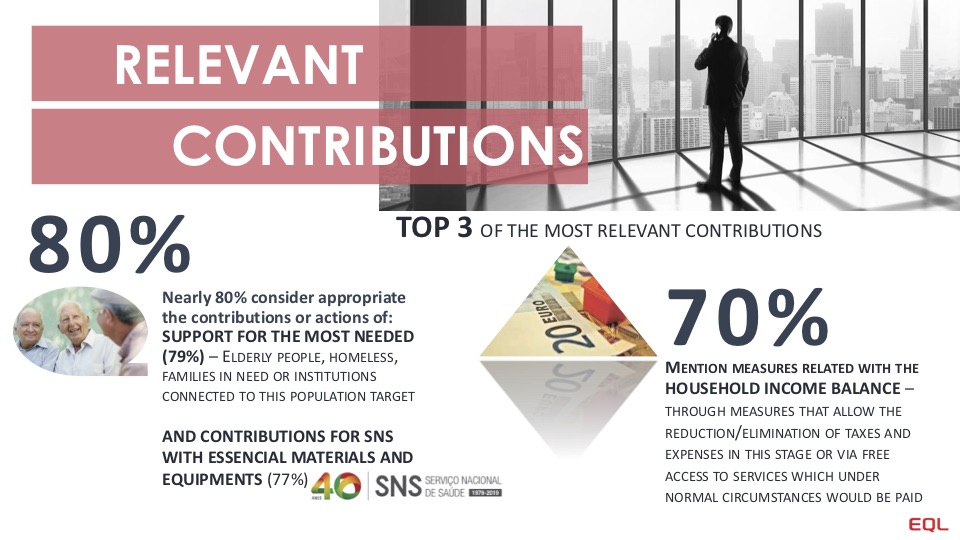 What does the consumer misses most? How can brands correspond to consumers expectations?
Consumers miss their freedom, to go out, to take a walk, to contact their family and friends, to "touch"

In this emotional context, with insecurity, consumers look for varied social contributes from brands and sectors.

The banking sector in general stands out by the negative impact perception. 

With the additional uncertainty about information, Media brands are selected by criteria of credibility and reputation. 

Telecoms upon which fall the highest expectations in different acting fields, from making available free of charge services to the creation of apps/online platforms to help manage the everyday life, or even in the reduction of the isolation sensation with measures that promote remote socializing.

Brands of food products that might be more absent at the moment for the uncertainty about what to communicate might work the nutrition aspects contributing with nutritional advising.

The consumer expects from the energy and financial sectors, supports to help in the financial balance, as well as contributions to the SNS (National Health Service) with essential materials. It is the energy sector that good practices in this are stood out with more evidence.
We, at Equação Lógica readjusted the way our teams work and activated even more the digital practices, online platforms and online communities that became the "new normal". The online qualitative is today an undeniable reality.
Equação Lógica continues actively committed to contribute with high quality information to minimize the risks of brands future decisions.
Contact us to know more about this or visit us at

www.equacaologica.com
We look forward to talking with you